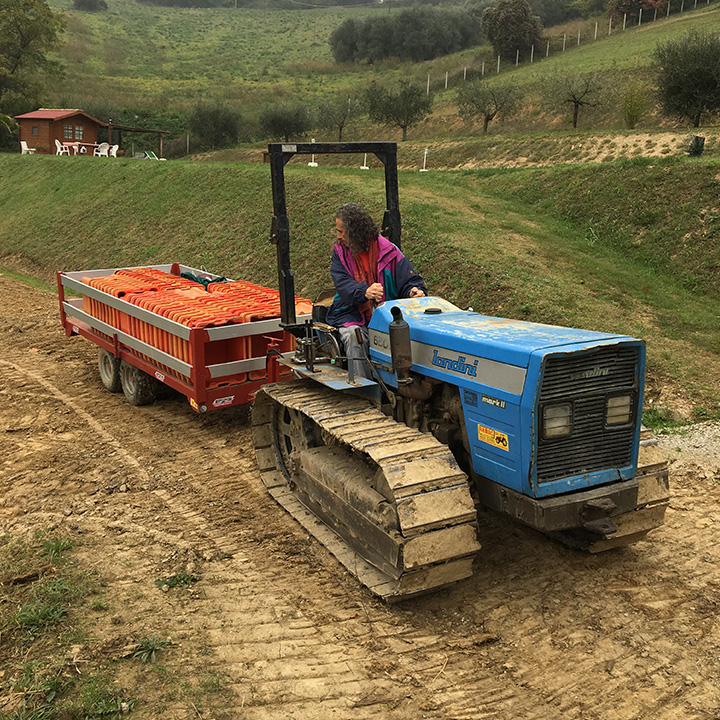 ALL THE WINES OF THE COMPANY ARE PRODUCED ONLY IF THE CLIMATIC CONDITIONS ALLOW FOR AN EXCELLENT, QUALITY DEVELOPMENT OF THE GRAPES.
La Tenuta il Plino, situated in the hills between San Carlo and Bertinoro, is named after the Rio Plino della Taverna that flows inside the vineyard, nestled in a small valley and fed by a rich spring.
La Tenuta il Plino began in 1999 with an old vineyard containing Sangiovese and Trebbiano varietals. The initial objective was to establish a viticulture management model of quality on par with neighboring Tuscany, a region sharing a common wine varietal, Sangiovese, which when working with low yields per plant produces high quality, long lasting red wines suitable to aging.
WHAT THEY'RE SAYING ABOUT US
MERANO WINE FESTIVAL 2018
The Romagna Albana DOCG ALBADIPLINO 2016 wine has been awarded with the Merano Wine Award and selected together with the other wines of Tenuta Il Plino for the Naturae et Purae - Bio & Dynalica fair of the Merano Wine Festival, which brings together excellent wines deriving from a natural viticulture.
Slow Wine Guida 2018
Alessandro's wines are exceptional, connected to the land, and visceral. Particularly notable is the Romagna Albana Alba of Plino 2016. After short time in barrique which imparts hints of flowers and sweet spices the wine creates a fresh and tasty flavor on the palate. Another example of the company's style, Plino della Taverna 2015 is a new clone of an old vineyard varietal harvested late and allowed to slowly dry on the vine, loaded with complexity and Mediterranean features. The Mufato del Plino 2015 is a fine example of terroir. It is a late harvest Albana with the bunches attacked by "noble" rot and is a wine that stands out for its balance and impeccable taste. Il Naso di Falco 2011 possesses velvety tannins and multiple olfactory expressions ranging from aromatic herbs to spices.
VITAE WINE GUIDE 2018
MUFATO DEL PLINO 2015
Golden and luminous. It possesses an intense and particularly expressive aroma that highlights honey and cotton candy flavours. Further adding to the complexity are hints of saffron, dried dates, and earthy notes. The taste is dynamic, fresh and balanced, sweet and soft, with an inviting and deep finish. Left to wither on the vine late in the season, the vines' grapes are attacked by what is referred to as a "noble" mold. It is fermented in small barrique, where it rests on lees and is then aged for 12 months in bottles. It pairs well with Blue cheeses
PLINO DELLA TAVERNA 2015
Golden yellow. It has a complex and unique profile with hints of tropical fruit and citrus mixed with honey and saffron. The taste is inviting, at first delicate then fading into a deep softness rounded out by a fresh and savory finish that is both rich and enveloping. This wine too is left to wither on the vine to develop the noble rot. It is fermented in small barrique then is aged for four months in stainless steel then it matures in bottles for a year. It pairs well with dry passatelli with a Fossa (cave aged) cheese fondue.
Contact
Come and find us at
GET IN TOUCH WITH US FOR MORE INFORMATION
Tenuta il Plino
Via Montalti - 47521 San Carlo (Fc) Italy
VAT number 01160240394
Direct sales upon appointment